Your free guide to ABDL and Littles Events and Parties around the world.

Wiener ABDL Soirée " Abendgesellschaft für Windel- und Ageplay-Freunde"
November 30, 2019 @ 6:00 pm

-

December 1, 2019 @ 4:00 am

Free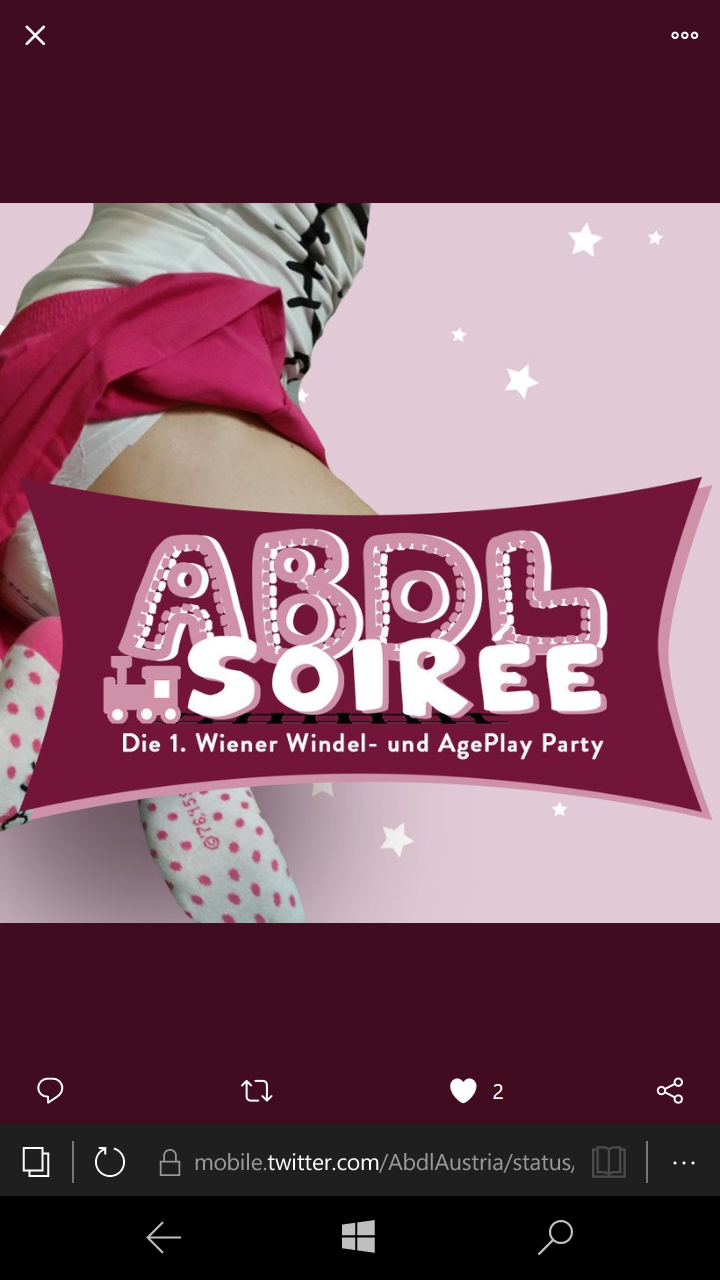 Du trägst gerne Windeln? Bist ein kleines Adult Baby, Adult Child, Little, Middle, Big oder Diaper Lover? Willst mal andere ABDLs kennenlernen und einen gediegenen Partyabend verbringen? Dann komm zu unserer zweiten ABDL Soirée am 30. November 2019 im SMart Café in Wien! Ab 18:00 Uhr bis open end kannst Du bei gutem Essen und Trinken quatschen, Spaß haben, und dabei Dein gut gepolstertes Lieblingsoutfit, sei es ein Kleidchen, Latzhosen, Röckchen, Strumpfhosen, Strampler oder Großenkleidung mit Pampers drunter tragen. Neben Windeln sind auch alle anderen Ageplay-bezogenen Fetische willkommen wie Schulmädchen & Zöglinge, Kätzchen & Hündchen, Sissies, Babyfurs, liebe Mommies oder böse Tanten.
Der gesamte hintere Teil des Lokals ist Nichtraucherbereich und für die ABDL Soirée reserviert. Im vorderen Teil des Lokals (Barbereich) darf geraucht werden. Wickel- und Umziehmöglichkeit ist vorhanden.
Etiquette: Respektvoll & lieb sein zueinander, Windeln und Spielzeug selbst mitbringen, und keine Stinkies
Volljährige aller Genderidentitäten, gonosomaler Karyotypen und Lieblingsfarben willkommen!
Keine Spanner, Gaffer, Creeps – ABDL & related only!
Eintritt frei!
Kontakt/Info:
abdlpartywien@gmail.com
abdlaustria.tumblr.com
twitter.com/abdlaustria
windelhauptstadt.de/archives/5821
kuddelmuddel.me/viewtopic.php?f=29&t=1947
wb-community.com/showthread.php?p=796144
Info in English:
Our 2nd Vienna ABDL Soirée is taking place on 30th of November 2019 at the SMart Café. It's a play party for ABDLs, littles, middles, bigs, schoolboys/girls, pets, sissies, babyfurs, nice mommies, wicked aunties and all others who can relate to ABDL, ageplay and/or diapers.
From 6 pm you can enjoy yourself well padded in your favourite outfit, be it a dress, skirt, overalls, tights, romper, onesie or just casual clothing with a diaper beneath.
The whole back part of the Café is reserved for our event and is non-smoker (you can smoke in the front/bar part) and there will also be a changing area.
Just be sure to be nice and respectful to the others, bring your own diapers and toys, and please no stinkies!
You have to be at least 18 years old to attend.
All genders and orientations are welcome.
Entry is free.
Foto- und Filmaufnahmen strengstens verboten!